Perfect for patios, decks, camping spaces and more, the Solar outdoor bug zapper and Mosquito Zapper is a portable, cordless, rechargeable bug zapper. It is designed for both indoor and outdoor use and covers approximately the size of a 215 sq. ft. deck of patio space.
This unit uses both black UV light technology, which has been scientifically proven to eliminate up to 40% more flying insects than white UV light and a high voltage shock that work together to reduce the number of mosquitoes and flying insects in your personal spaces. It also incorporates bright white LED's, perfect for lantern-only accent lighting for 21 hours with one fully charged, or features quiet zapping operation for a 17 hour run time.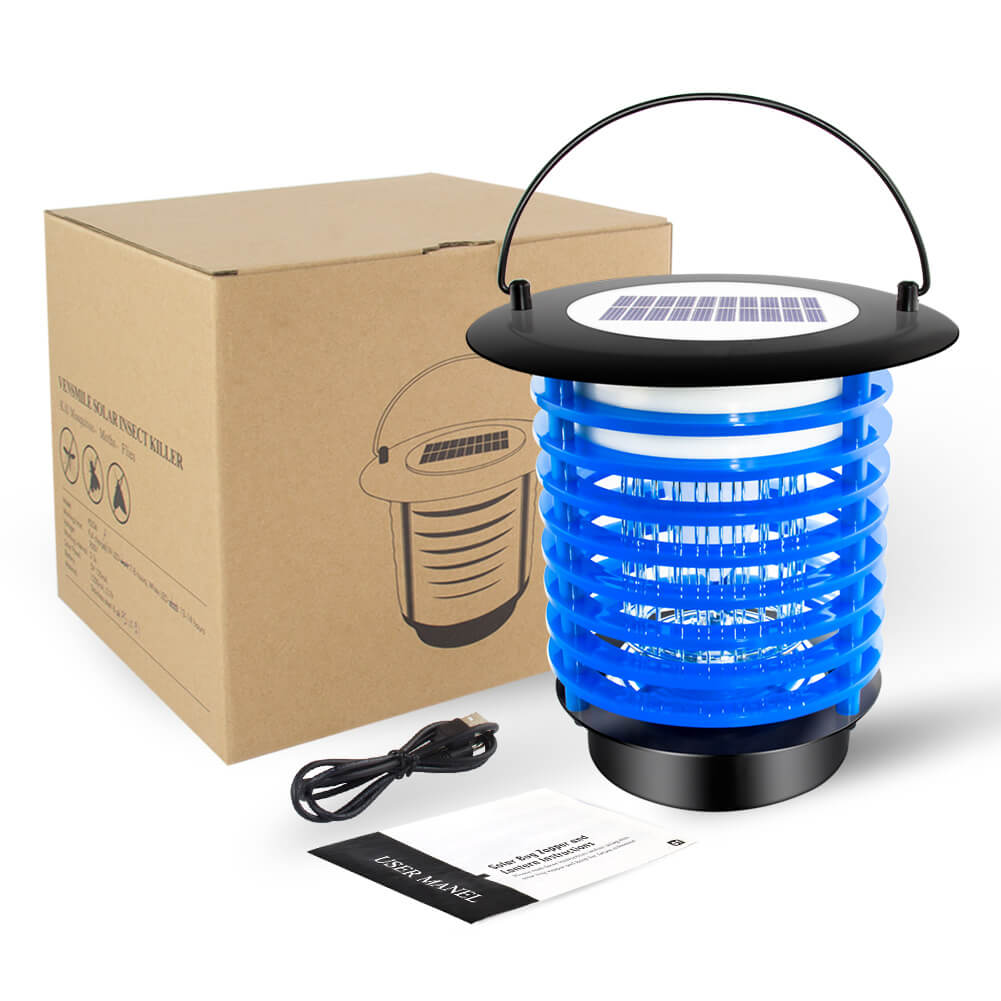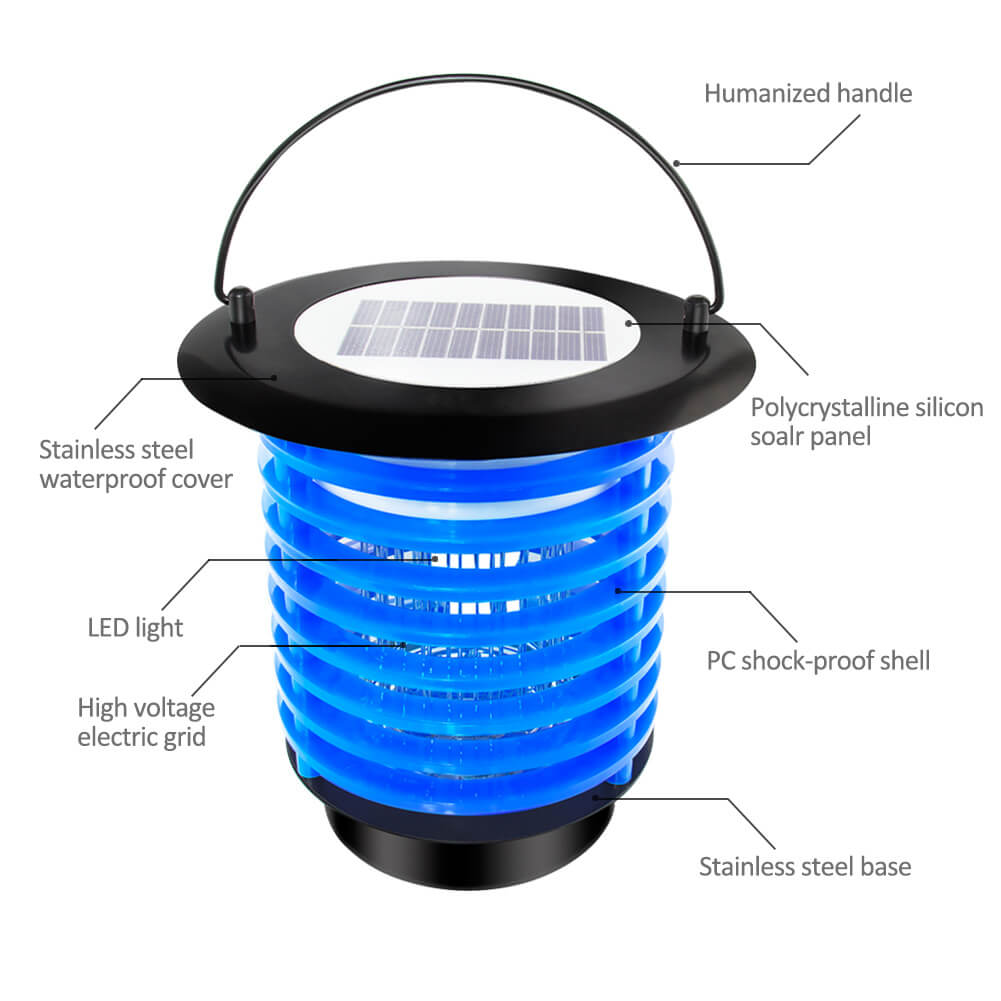 Installation of the outdoor bug zapper
1. Before installation, get the unit fully charged by sunlight for 2-3 days for the first time (8 hours after that) or by USB adapter (5V 500mA) for 2 hours.
2. Hang or place the unit where children can't reach, appro.0.8M~1.5M above the ground.
3. Choose working modes as required:
-TRAP: bug zapper mode, a purple UV light will work automatically in the dark and off in the light
-LIGHT: illumination mode, white LED light illuminates your dark night.
4. Cut off the power supply before cleaning and repairing the unit.
5. Use brush (included) to clean the metal grid and dump the bodies of insects on the collection tray every week.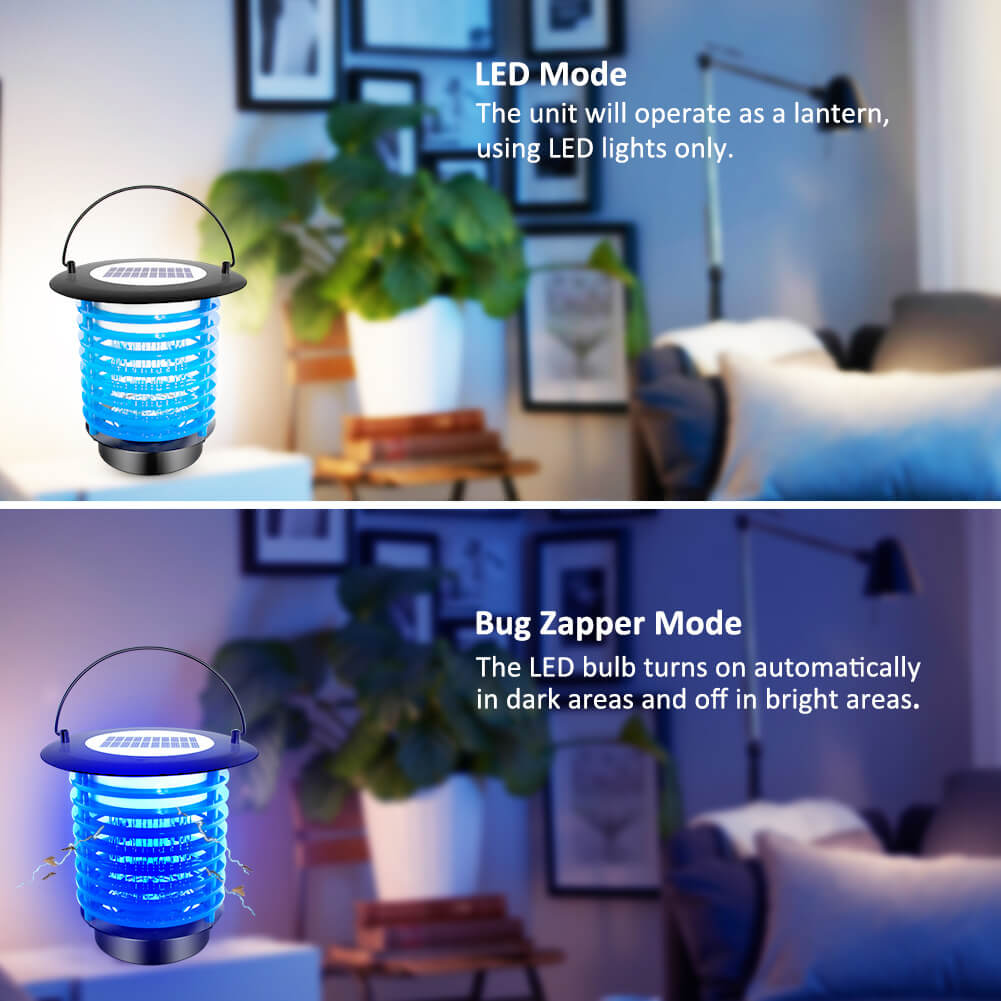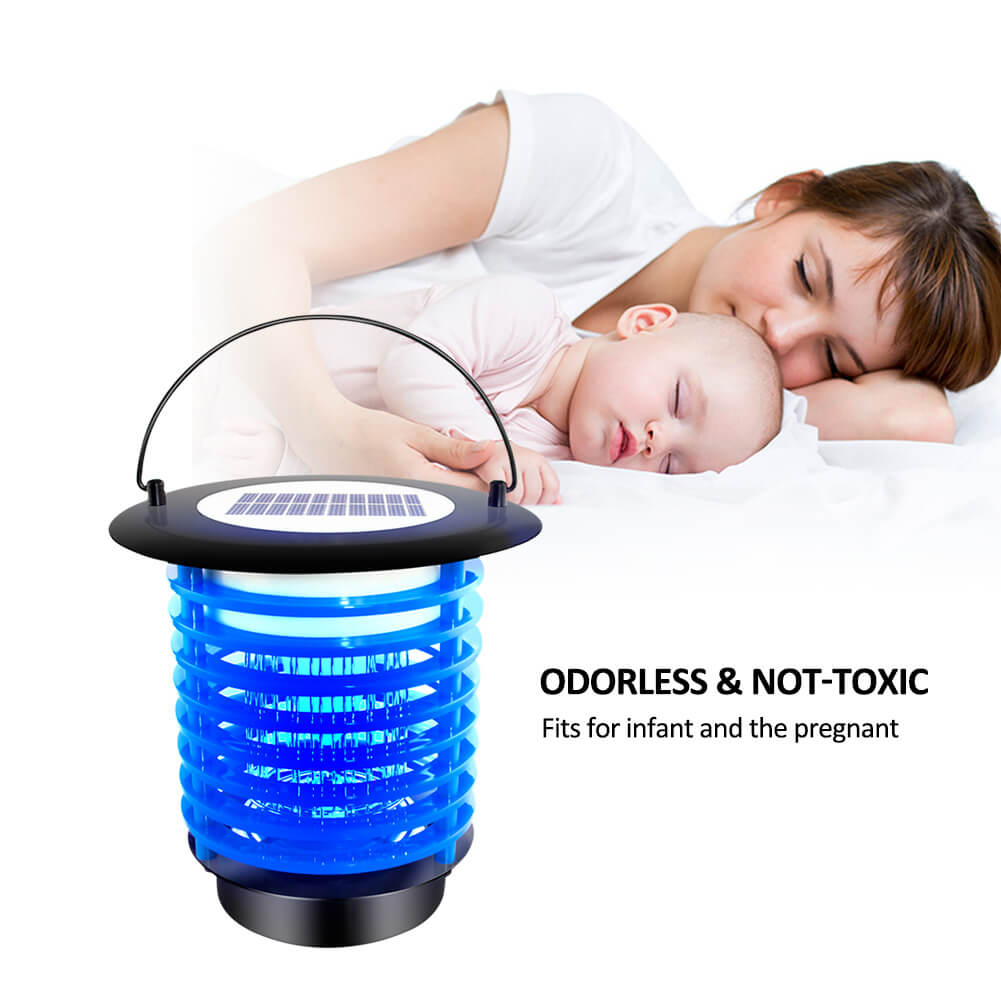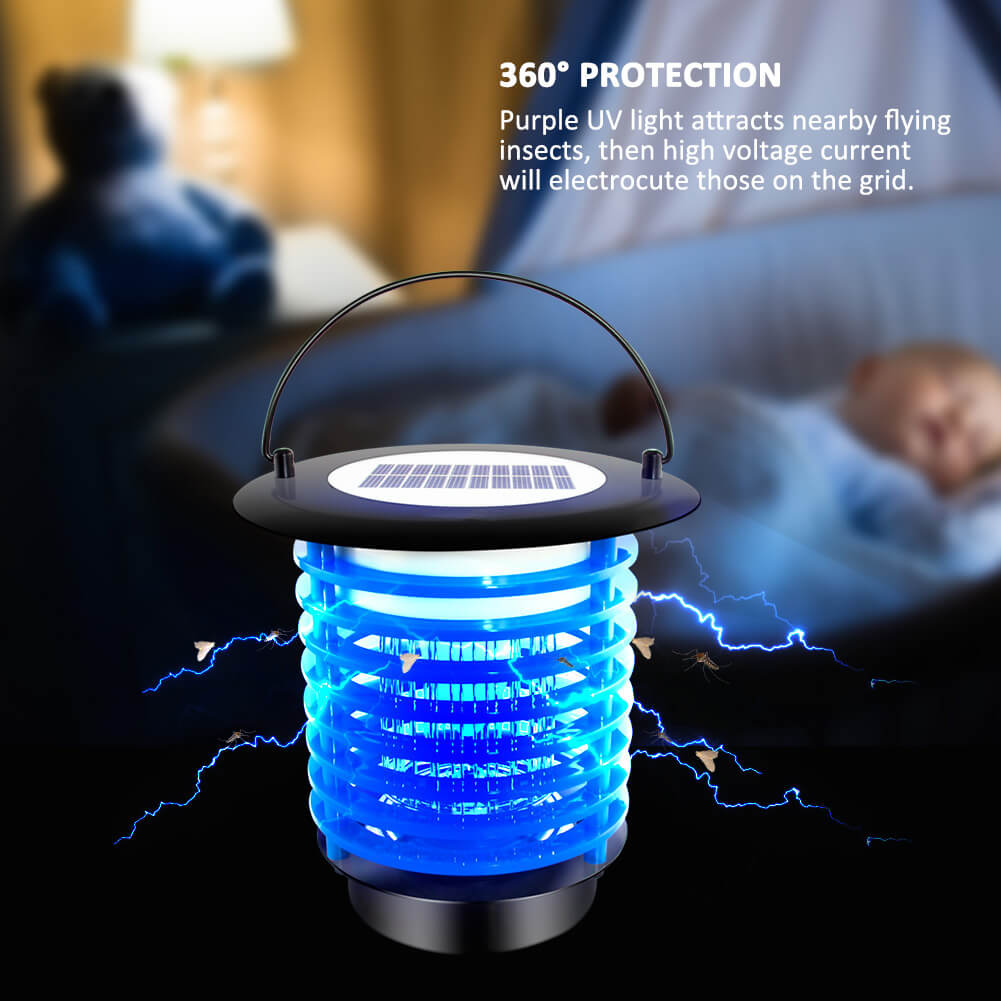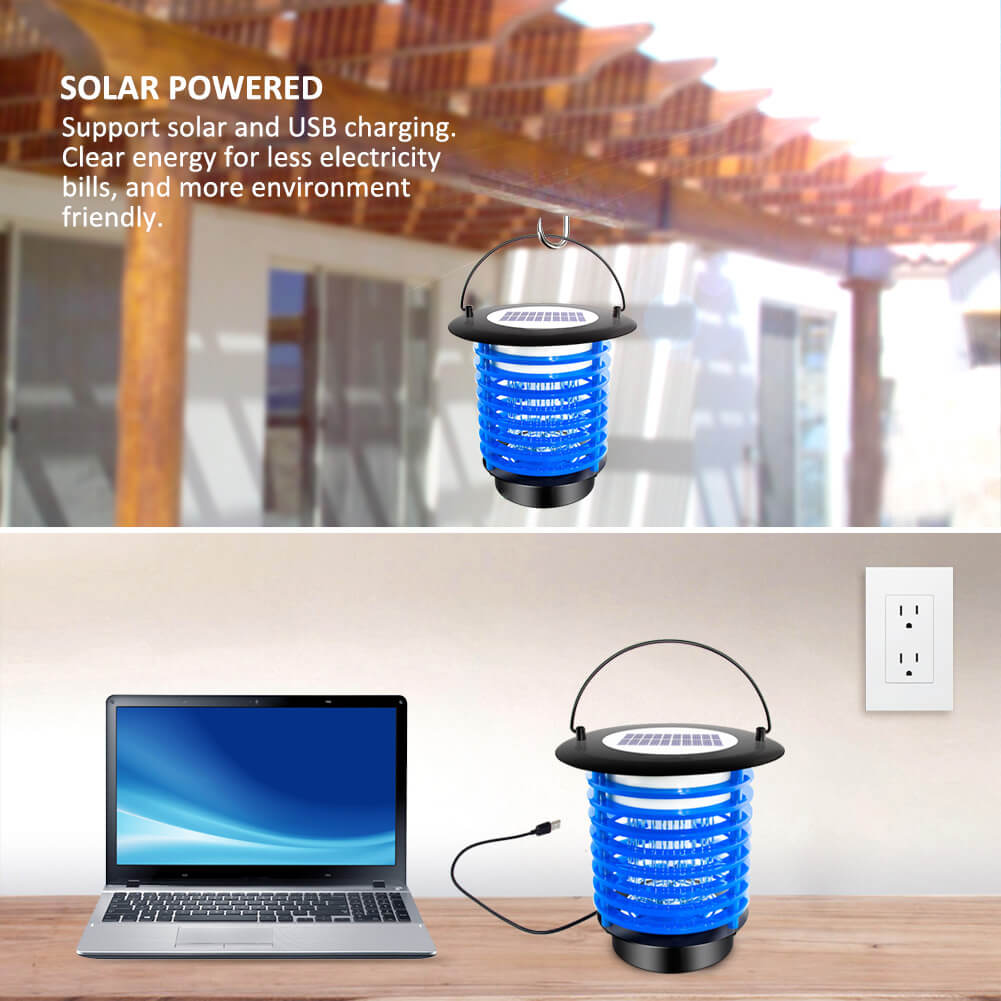 Model No.
VS336
Casing Material
ABS (Anti-UV) and stainless steel
Power Supply
Solar and USB
Solar Panel
5V 180mAh
Built-in Battery
3.7V 1800mAh Lithium
Working Time
UV LED:17 hours
White LED:21 hours
Wavelength
365 nm UVA light
Grid Voltage
DC 800V
Coverage
215 sq. ft. (20 sq. m.)
Package
Color box (Customized acceptable)
Color box size
200*200*200mm
Carton size
420*420*425mm
Qty. per carton
8 PCS
N. W. per carton
6.67KG
G. W. per carton
9.3KG
Click here to find other ultrasonic rodent repeller product