This smart solar-powered mole repeller is one of the best sonic mole repellers in the market, it can chase away moles, gophers, and other destructive burrowing animals.
Using the sun – the strongest and least expensive power source available – the effective, eco-friendly solar Solar ultrasonic mole repeller emits powerful vibration and sound pulses that drive away burrowing animals without a scratch.
This humane, poison-free mole and gopher repeller is safe to use around children and pets, so you can kick back and enjoy some peace of mind, not to mention a destructive-free yard.
What's the difference between ours and others?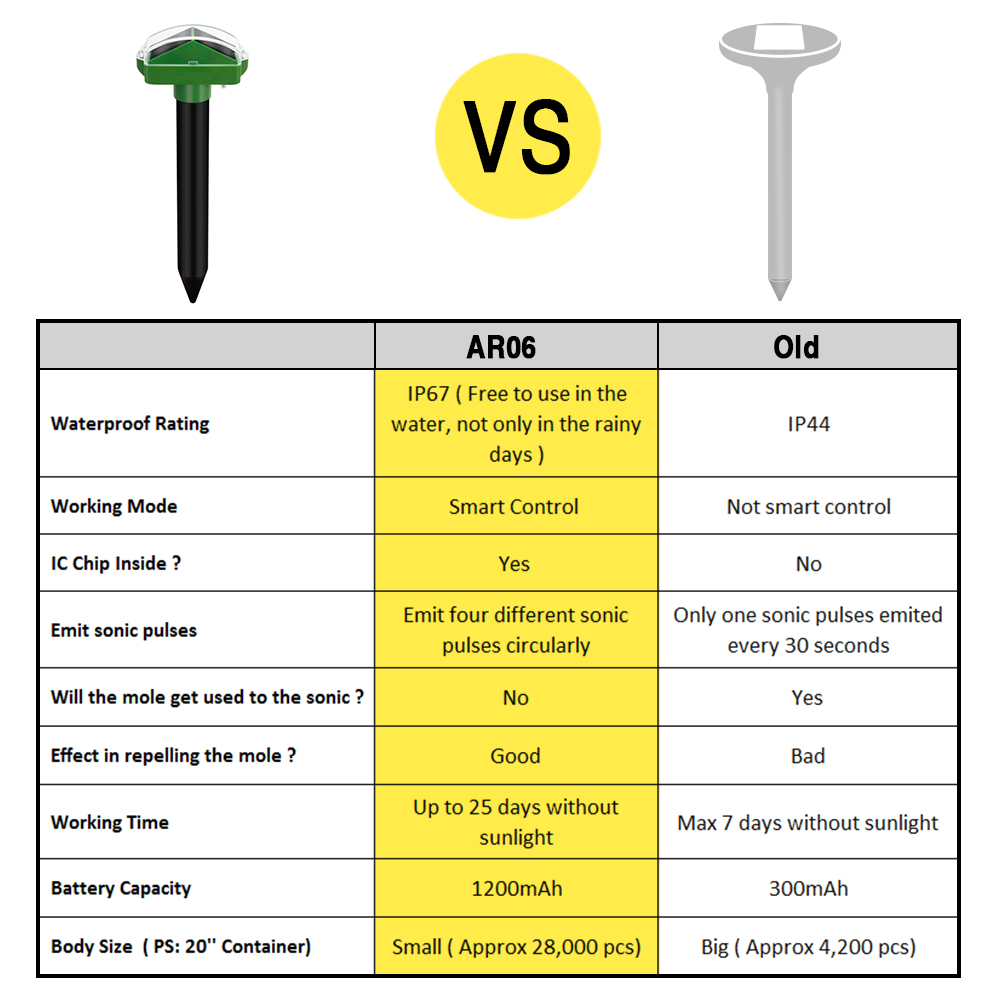 How does it work? 
The traditional sonic mole repeller will emit the sonic pulses at a regular time, such as 25 seconds, 30 seconds. in this working mode, the mole is very easy to get used to the regular sonic after some time.
Not like the old repeller, our smart solar-powered mole repeller will emit 4 different sonic pulses circularly at different time, in this working mode, the mole is difficult to get used to the sonic. So, it will have a better result in repelling the mole.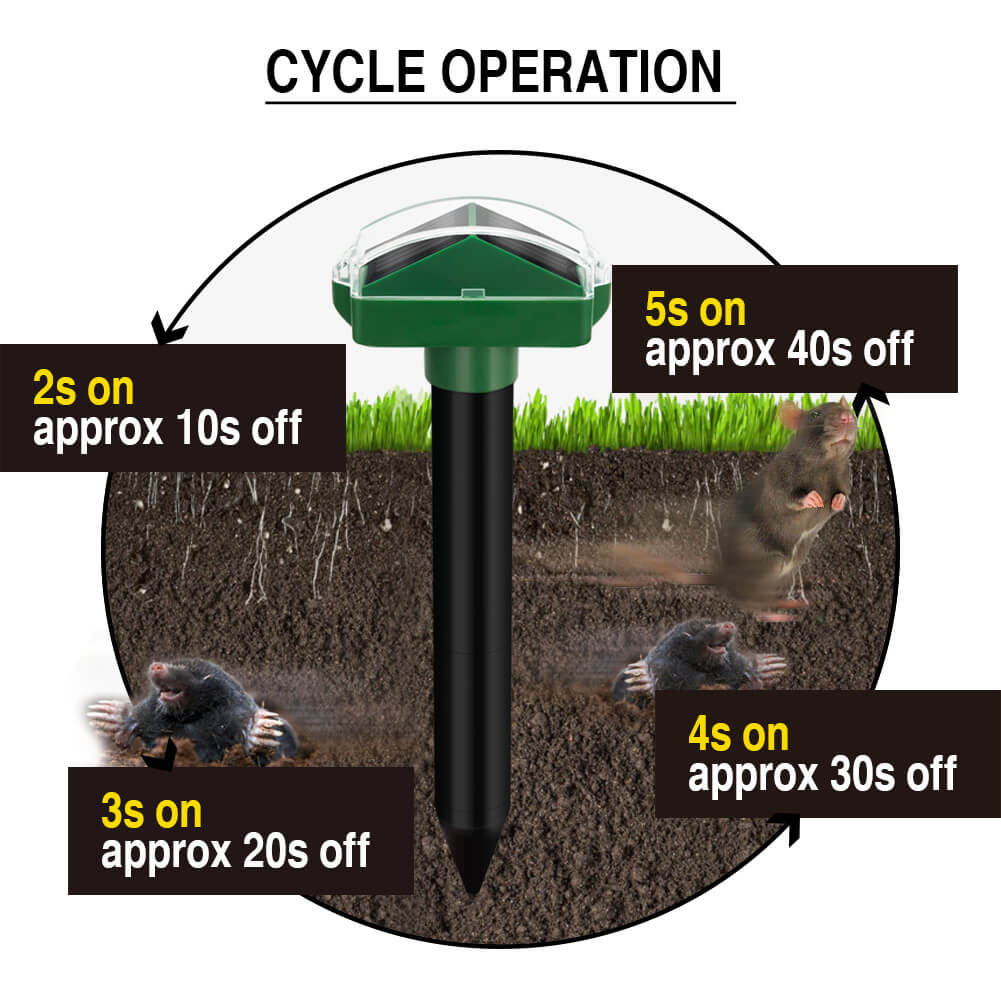 IP67 Waterproof
What does this mean?
It means that our repeller is not only free to use in the outdoor rainy days but also can be used in the water, so you don't need to worry about the flood coming in the summer.
This is the highest waterproof solar mole repeller in the market. If you are interested in checking the IP67 waterproof test report, just send us a message.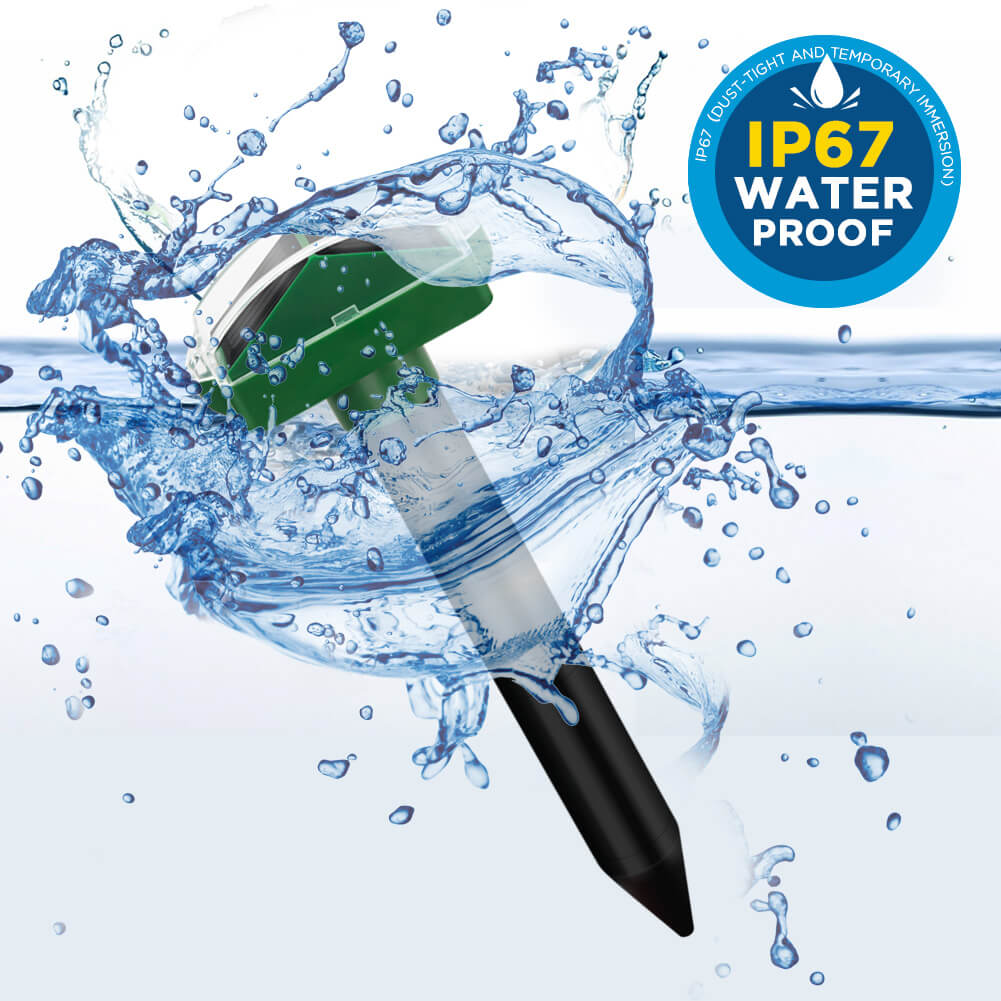 Super long working time ( Without sunlight) 
There is a built-in rechargeable battery, capacity 1200mAh. One full charge, it can keep the device working 25 days without the sunlight.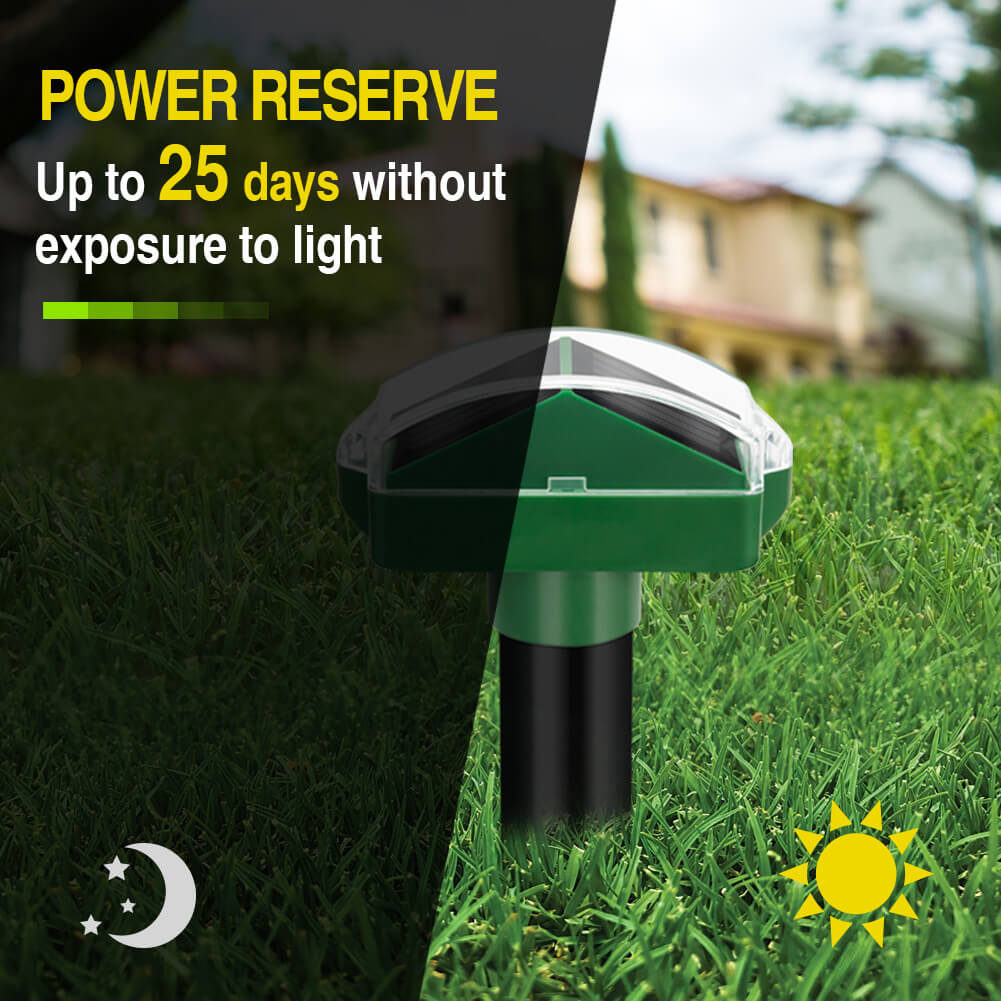 Specification
Model No.
AR06
Casing Material
ABS+PC Cover
Power Supply
Solar
Battery
Built-in Rechargeable Battery
Wattage
0.25W
Frequency
40-1000 Hz
Power Reserve
one solar full charge will
last up to 25 days
Coverage Area
Up to 7, 000 sq. ft. (650㎡)
Waterproof IP rating
IP67 ( Free to use in deep water, not just in the rainy days)
Package
Color box (Customized acceptable)
Color box size (2 pack)
252*148*47mm
Carton size (2 pack)
530*470*260mm
Qty. per carton (2 pack)
30SETS
N.W. per carton (2 pack)
12.75KG
G.W. per carton (2 pack)
16.3KG
Color box size (4 pack)
255*150*95mm
Carton size (4 pack)
530*325*405mm
Qty. per carton (4 pack)
16 SETS
N.W. per carton (4 pack)
13.6 KG
G.W. per carton (4 pack)
17.5 KG
Dimensions
4.33*1.77*12.2inch (L*W*H)
QTY Per 20' FCL
25,920pcs
Installation
1. Before installation, please charge the product under the sunlight for 12-24 hours.
2. Assemble the product as the following picture.
3. Use a wooden stake or steel rod to make a pilot hole prior to insert the product into the ground. Do not use a hammer or excessive force as doing so may cause damage
4. Insert the spike until the bottom of the spike head begins touching the ground to prevent the chance of hitting it with a lawnmower or tripping on it.
5. To activate, slide switch to "ON".
6. Remove the product when flooding may occur or before ground freezes.
7. Suggested installation distance: Approximately 82 ft. apart between 2 units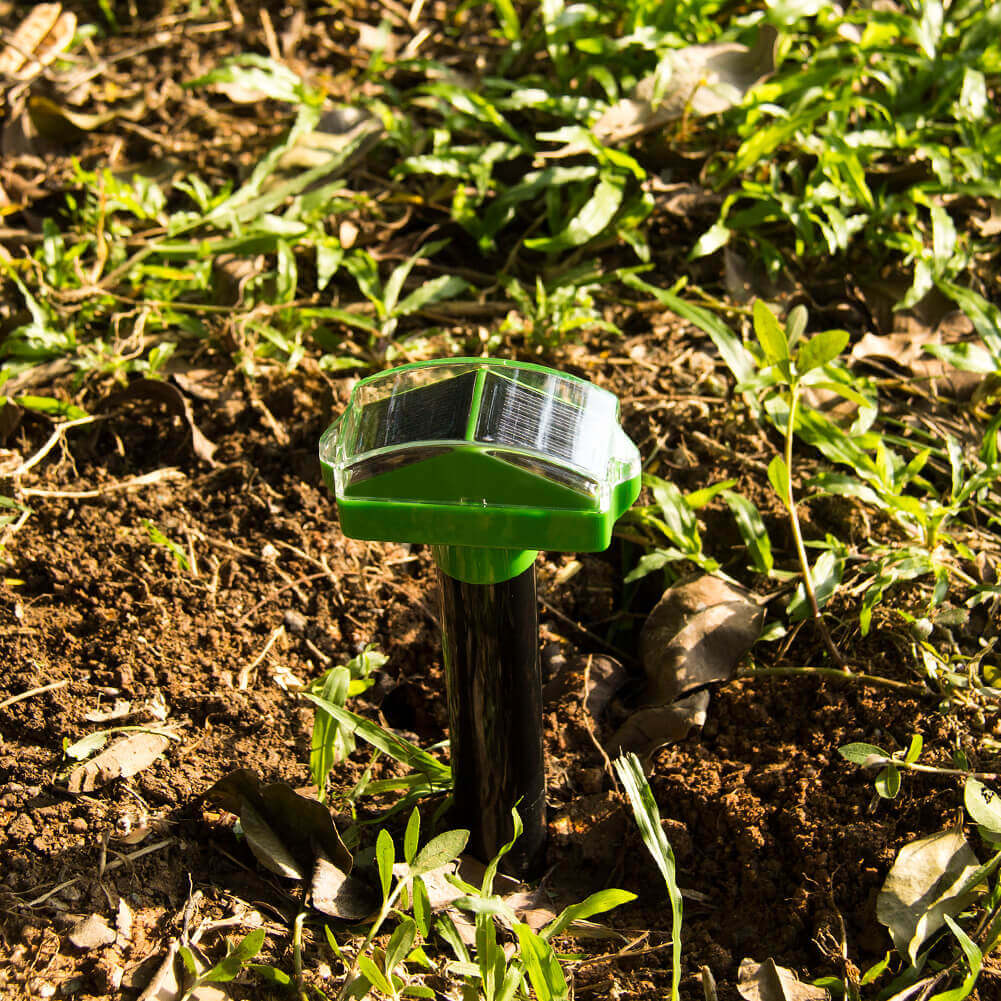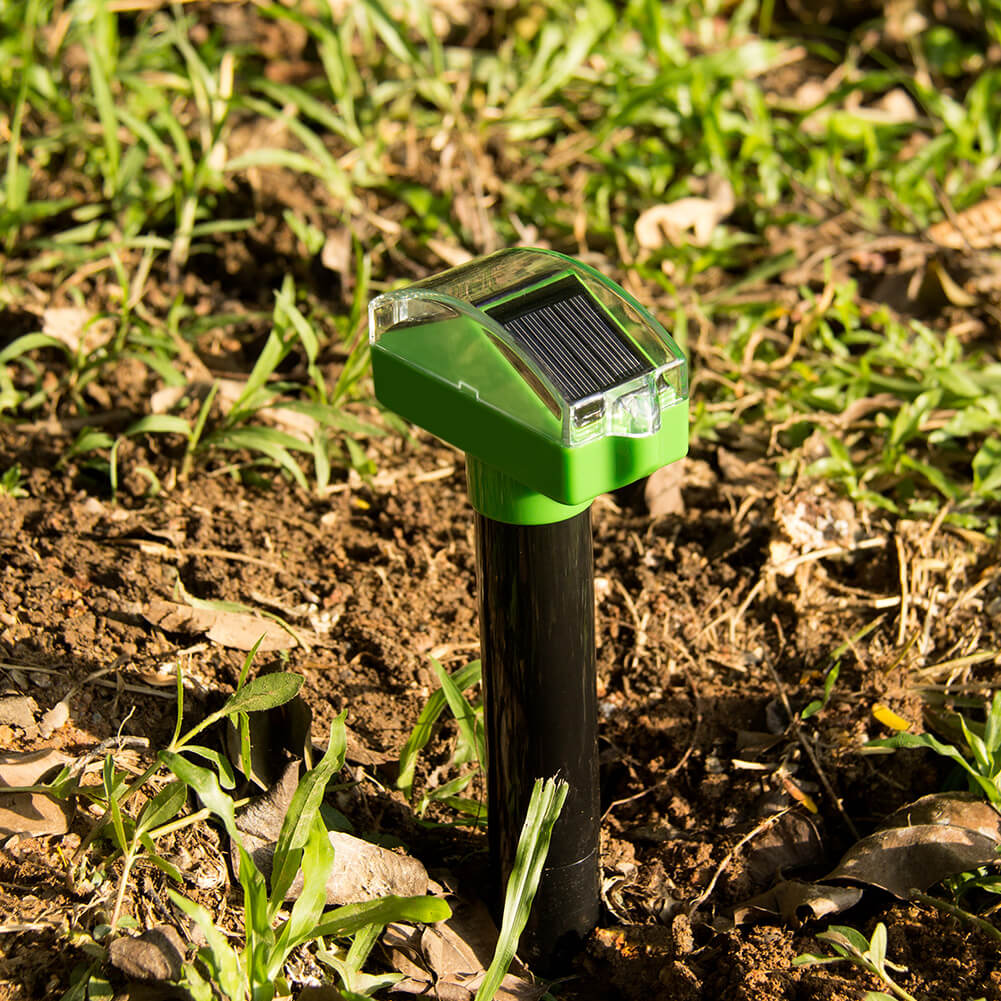 →Click here to find other ultrasonic rodent repeller product
→Click to download the datasheet